N├ízory na z├íklady kost├Żmu se r┼»zn├ş. Pro za─Ź├ítek sem hod├şm sv┼»j ─Źl├ínek, zve┼Öejn─Ťn├Ż 29. Z├í┼Ö├ş 2011 na port├ílu larp.cz (
http://www.larp.cz/
)
├Ü─Źelem ─Źl├ínku nen├ş n├ívod na geni├íln├ş kost├Żm, je to pouze n├ívod na to, co j├í pova┼żuji za hezk├Ż a p┼Ö├şpadn─Ť i samostatn─Ť pou┼żiteln├Ż kost├Żmov├Ż z├íklad..
" Kdy┼ż jse┼í tak chytrej a m├í┼í furt kecy, tak se pochlub, jak na to. "

A to je pravda. Lep┼í├ş je poradit jak postupovat p┼Öi v├Żrob─Ť kost├Żmu na fanasy/historick├Ż larp (pota┼żmo i na historick├Ż ┼íerm), ne┼ż se jen posm├şvat t─Ťm, co maj├ş n─Ťco ┼ípatn─Ť. Douf├ím proto, ┼że tenhle ─Źl├ínek bude p┼Ö├şnosem nejen nov├í─Źk┼»m, ale i mnoh├Żm star┼í├şm hr├í─Ź┼»m, proto┼że na jak├ęmkoliv kost├Żmu je v┼żdycky co dod─Ťl├ívat.
Rozebereme si tedy jak by m─Ťl ─Źlov─Ťk, kter├Ż nev├ş nic o v├Żrob─Ť kost├Żmu, postupovat. Nakoupit spoustu v─Ťc├ş v internetov├Żch kr├ímech nen├ş jedin├ę ┼Öe┼íen├ş. Jejich v├Żrobky jsou ─Źasto drah├ę (p┼Öeci jen, n─Ťjak si vyd─Ťlat mus├ş) a v n─Ťkter├Żch p┼Ö├şpadech i nehezk├ę a nep┼Ö├şli┼í kvalitn├ş. Stejn─Ť tak velmi ┼ípatn─Ť vypad├í varko─Ź oble─Źen├Ż p┼Öes civiln├ş oble─Źen├ş. D┼»le┼żit├ę je tak├ę uv─Ťdomit si, ┼że krou┼żkovka a plechy samy o sob─Ť rozhodn─Ť netvo┼Ö├ş kost├Żm, a v z├íkladu v┼»bec nejsou ┼ż├ídouc├ş.
Jednou z ot├ízek je, z ─Źeho n├í┼í kost├Żm vlastn─Ť m├íme vyrobit. Tepl├íky a potrhan├ę tri─Źko u┼ż prost─Ť nejsou v m├│d─Ť, a tak v┼Öele doporu─Źuji pou┼ż├şvat POUZE p┼Ö├şrodn├ş materi├íly. Z t─Ťch hlavn─Ť len na spodn├ş vrstvy a vlnu na svrchn├ş. P┼Ö├şpustn├í je i bavlna, ale rozhodn─Ť zapomeneme na dyft├Żny, nato┼ż pak je┼ít─Ť ┼í├şlen─Ťj┼í├ş um─Ťliny. P┼Ö├şrodn├ş materi├íly jsou pohodln├ę, l├ępe vypadaj├ş a konec konc┼» jsou i dobov├ę, co┼ż je hezk├Ż bonus, kdy┼ż ne p┼Ö├şmo n├í┼í c├şl.
Kost├Żm je vhodn├ę inspirovat n─Ťjakou dobovou p┼Öedlohou. Pro─Ź? Odpov─Ť─Ć je snadn├í ÔÇô historick├ę oble─Źen├ş slou┼żilo v minulosti stejn─Ť, jako te─Ć slou┼ż├ş na┼íe civiln├ş oble─Źen├ş n├ím. Z toho se d├í tedy jednodu┼íe usuzovat, ┼że je vymy┼ílen├ę funk─Źn─Ť a pohodln─Ť. Dal┼í├şm d┼»vodem m┼»┼że b├Żt to, ┼że fantasy kost├Żmy inspirovan├ę histori├ş prost─Ť vypadaj├ş dob┼Öe.
Hezk├Ż bonus, i kdy┼ż rozhodn─Ť ne nutnost, je ┼íit├ş kost├Żm┼» ru─Źn─Ť ÔÇô neomezuje v├ís ┼íic├ş stroj (j├í u┼ż str├ívil nejednu nudnou matematiku ┼íit├şm oble─Źen├ş na nadch├ízej├şc├ş akci).
Mus├şme se tak├ę rozhodnout, ke kter├ęmu n├írodu budeme n├í┼í kost├Żm stylizovat. Tento n├ívod je pou┼żiteln├Ż prakticky pro v┼íechny obvykl├ę n├írody, sta─Ź├ş jen vybrat vhodn├ę barvy, dopl┼łky a p┼Ö├şpadn├ę ├║pravy. Na elfy budeme kup┼Ö├şkladu volit hlavn─Ť zelen├ę a hn─Ťd├ę barvy a kost├Żm dopln├şme o ┼ípi─Źat├ę u┼íi, stejn─Ť tak jako trpasli─Ź├ş kost├Żm dopln├şme vousy. U sk┼Öet├şch kost├Żm┼» doporu─Źuji koupit b├şl├Ż len a barvit si ho doma ÔÇô barven├ş nikdy nebude ├║pln─Ť rovnom─Ťrn├ę a p┼»sob├ş tak spr├ívn─Ť sk┼Öet├şm dojmem. Kost├Żm na sk┼Öeta je tak├ę vhodn├ę doplnit r┼»zn├Żmi z├íplatami a podobn─Ť ÔÇô fantasii se meze nekladou.
U v├Żroby kost├Żmu je nutn├ę postupovat od nejspodn─Ťj┼í├şch vrstev. Z├íkladem je tedy ko┼íile, kalhoty a jednoduch├ę boty.
Košile
Z├íkladem kost├Żmu by m─Ťla b├Żt spodn├ş ko┼íile z jemn├ęho lnu. V historii se jej├ş podoba r┼»znila. Pro na┼íe pot┼Öeby posta─Ź├ş zcela jednoduch├Ż st┼Öih ÔÇô t─Ťlo st┼Öihneme jako dva obd├ęln├şky (nebo jim podobn├ę ├║tvary, roz┼íi┼Öuj├şc├ş se sm─Ťrem dol┼» - naho┼Öe se┼íikmen├ę vzh┼»ru, sm─Ťrem k otvoru na hlavu). Z├íkladn├ş obd├ęln├şky nam─Ť┼Ö├şme dlouh├ę cca po kolena, d├ęlku ruk├ív┼» m┼»┼żeme vz├şt klidn─Ť podle na┼íeho civiln├şho oble─Źen├ş. Postupujeme tak, ┼że nejd┼Ö├şve se┼íijeme dva z├íkladn├ş d├şly v ramenou, pot├ę p┼Öi┼íijeme nese┼íit├ę ruk├ívy, a a┼ż pak vedeme dlouh├Ż steh od z├íp─Ťst├ş a┼ż na bok. Pro lep┼í├ş pohyblivost vyrob├şme ze zbytku l├ítky dva troj├║heln├şkov├ę kl├şny, kter├ę do ko┼íile v┼íijeme od pasu dol┼», mezi p┼Öedn├ş a zadn├ş ─Ź├íst. T├şm zv─Ťt┼í├şme obvod kolem kolen a umo┼żn├şme tak v na┼í├ş nov├ę ko┼íili pohodln├Ż b─Ťh i ┼íerm. V├Żst┼Öih, kraj ruk├ív┼» a spodn├ş lem je samoz┼Öejm─Ť nutn├ę p┼Öehnout a zapo┼í├şt, aby se n├ím l├ítka o┼íkliv─Ť nep├írala. A na┼íe ko┼íile je na sv─Ťt─Ť.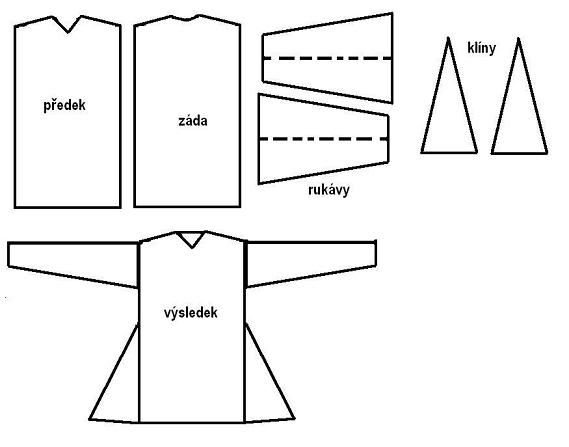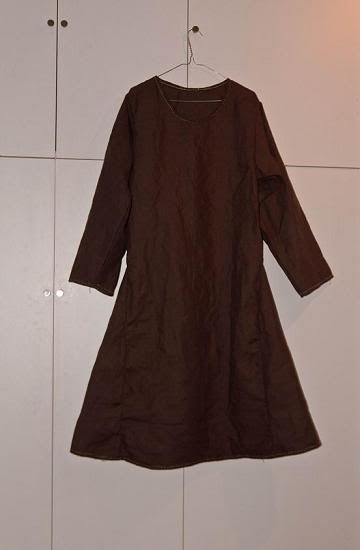 Kalhoty
Na prvn├ş kalhoty n├ím nejl├ępe poslou┼ż├ş st┼Öih na ran─Ť st┼Öedov─Ťk├ę spodn├ş tren├Żrky ÔÇô sta─Ź├ş prost─Ť dva obd├ęln├şky l├ítky, dlouh├ę jako va┼íe nohy, se┼í├şt k sob─Ť jako ÔÇ×sed├íkÔÇť a n├ísledn─Ť se┼í├şt ka┼żdou zvl├í┼í┼ą tak, aby tvo┼Öily dv─Ť nohavice. N├íro─Źn─Ťj┼í├ş jedinci mohou tak├ę mezi tyto dva obd├ęln├şky vlo┼żit koso─Źtvercov├Ż nebo obd├ęln├şkov├Ż kl├şn (pro lep┼í├ş pohyblivost). V pase sta─Ź├ş l├ítku ohnout o n─Ťco v├şce ne┼ż obvykl├ę lemov├ín├ş, zapo┼í├şt a vznikl├Żm kan├ílkem provl├ęknout ┼í┼ł┼»rku slou┼ż├şc├ş ke sta┼żen├ş kalhot.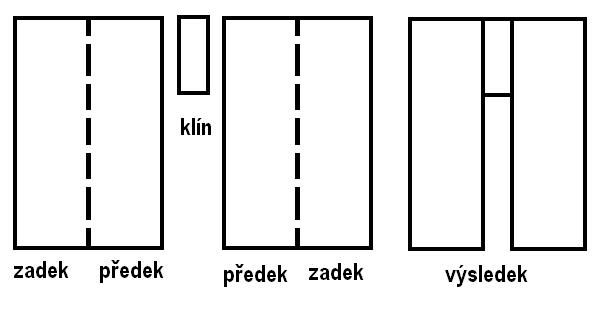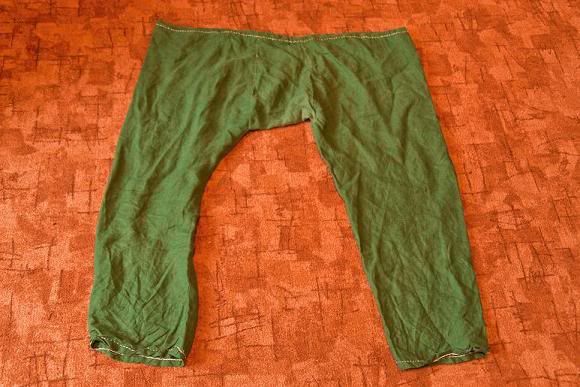 Boty
A─Ź si to mo┼żn├í n─Ťkte┼Ö├ş nemysl├ş, boty jsou naprosto ned├şlnou sou─Ź├íst├ş z├íkladu kost├Żmu. Nem┼»┼żeme ale po nikom cht├şt, aby si hned ve sv├Żch za─Ź├ítc├şch kupoval drah├ę boty za n─Ťkolik tis├şc. Stejn─Ť jako zbytek kost├Żmu, i boty se daj├ş vy┼Öe┼íit velmi levn─Ť a p┼Öitom slu┼ín─Ť. Nebudeme se sna┼żit zakr├Żvat na┼íe civiln├ş boty - nevypad├í to v┼żdy zle, ale v├Żroba jednoduch├Żch bot n├ís bude st├ít m├ęn─Ť ├║sil├ş ne┼ż v├Żroba promy┼ílen├Żch n├ívlek┼», a p┼Öeci jen - v┼żdy to bude vypadat o n─Ťco l├ępe. Nejjednodu┼í┼í├şm ┼Öe┼íen├şm bot jsou ran─Ť st┼Öedov─Ťk├ę krpce. Sta─Ź├ş n├ím sehnat si dva kusy tlust├ę k┼»┼że (o n─Ťco v─Ťt┼í├ş ne┼ż na┼íe noha). Na n─Ť si obkresl├şme sv├í chodidla a nech├íme po obvodu pruh jako okraj. Patu nast┼Öihneme a se┼íijeme tak, aby st├íla v prav├ęm ├║hlu k podr├í┼żce. Po obvodu zbytku boty nad─Ťl├íme d├şrky a provl├ękneme ko┼żenou tkanic├ş. Po zat├íhnut├ş n├ím k┼»┼że vytvo┼Ö├ş v podstat─Ť m─Ť┼íec kolem nohy, a t├şm je bota hotov├í.
Do krpc┼» je vhodn├ę omotat si nohy onucemi (zavinova─Źkami) ÔÇô pruhem l├ítky, kter├Żm omot├íme nohu od ┼ípi─Źky a┼ż po koleno a p┼Öev├í┼żeme tkanic├ş. Nejsou tak vid─Ťt na┼íe civiln├ş pono┼żky a kalhoty neplandaj├ş podivn─Ť kolem bot.
K├íp─Ť
K├íp─Ť nen├ş nutnou ─Ź├íst├ş kost├Żmu, ale vypad├í hezky. Funguje jako ochrana proti nep┼Ö├şzni po─Źas├ş (je tud├ş┼ż lep┼í├ş vyr├íb─Ťt j├ş z vlny, kter├í h┼Öeje a nepromokne) a p┼Öekr├Żv├í v├Żst┼Öih, kter├Ż se n├ím napoprv├ę mo┼żn├í nepoda┼Öilo ├║pln─Ť dob┼Öe st┼Ö├şhnout. K├íp─Ť by se m─Ťla ┼í├şt z jednoho kusu l├ítky ÔÇô l├ítku p┼Öelo┼ż├şme tam, kde je ÔÇ×vr┼íek k├íp─ŤÔÇť a st┼Ö├şhn─Ťte tak, abychom k├ípi se┼í├şvali jen pod bradou a za krkem sm─Ťrem ke ┼ípi─Źce. Je pot┼Öeba d├ít pozor, abychom st┼Öihli dostate─Źn─Ť velk├Ż otvor na krk ÔÇô p┼Öi obl├ęk├ín├ş k├íp─Ť mus├şme skrz prostrkovat hlavu.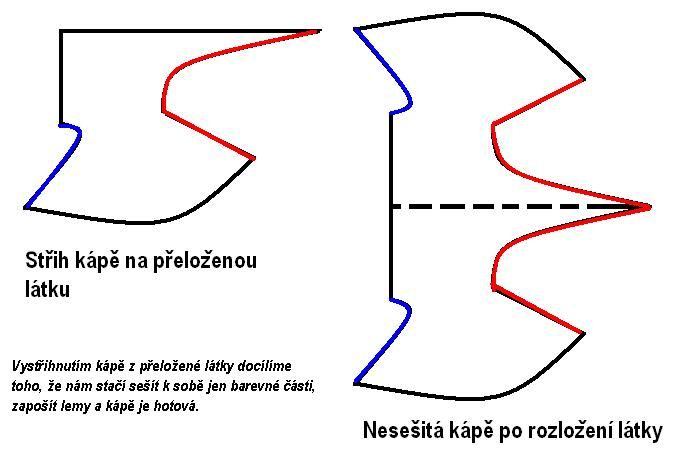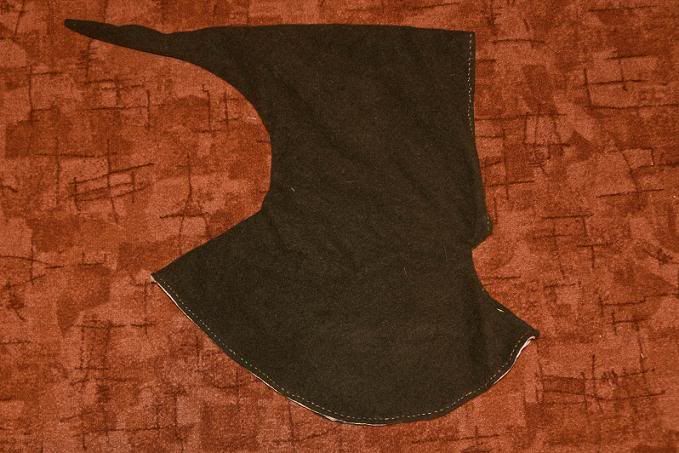 Dopl┼łky
D├íle je vhodn├ę sehnat si p├ísek, p─Ťknou bra┼íni─Źku na doklady a pokr├Żvku hlavy.
Jako opasek poslou┼ż├ş jak├Żkoliv ko┼żen├Ż ┼Öem├şnek s p─Ťknou, neru┼íivou sponou. Budeme se sna┼żit vyb├şrat p├ísky co nejten─Ź├ş ÔÇô tlust├ę p├ísky b├Żvaj├ş ─Źasto nehezk├ę, a nav├şc, ─Ź├şm tlust┼í├ş p├ísek, t├şm obvykle o┼íkliv─Ťj┼í├ş a v├Żrazn─Ťj┼í├ş spona.
Bra┼íni─Źka se d├í vyrobit velmi jednodu┼íe z od┼Öezk┼» k┼»┼że po┼Ö├şzen├Żch za p├ír korun. St┼Öih je t├ęm─Ť┼Ö libovoln├Ż kdy┼ż poslou┼ż├ş sv├ęmu ├║─Źelu.
Posledn├şm, ale nem├ęn─Ť d┼»le┼żit├Żm dopl┼łkem je pokr├Żvka hlavy. Ta je vhodn├í p┼Öedev┼í├şm do moment┼» mezi bojem, p┼Öi boji by p┼Öeci jen n─Ťkter├ę ─Źapky mohly p┼Öek├í┼żet. Kdo m├í hezkou ─Źapku na hlav─Ť, je prost─Ť frajer. A nav├şc - ve vedru dob┼Öe chr├ín├ş p┼Öed p┼Ö├şpadn├Żm bolehlavem. Nejjednodu┼í┼í├ş je tak zvan├ę ÔÇ×miminoÔÇť. U mimina st┼Öih net┼Öeba. Skl├íd├í se ze dvou polovin (jako na obr├ízku), se┼íit├Żch k sob─Ť jedn├şm ┼ívem vedouc├şm p┼Öes t├Żl a temeno hlavy. Na larp.cz je tak├ę k nalezen├ş dobr├Ż ─Źl├ínek zam─Ť┼Öen├Ż p┼Ö├şmo na pokr├Żvky hlavy. (
http://www.larp.cz/cs/clanek/1613/pokryvka-hlavy
)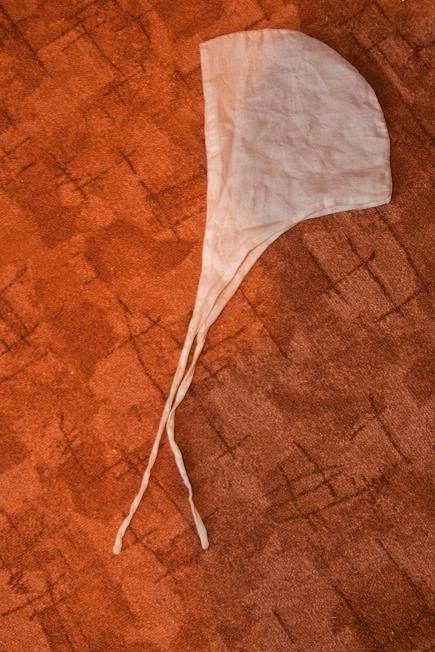 V t├ęto f├ízi by m─Ťl b├Żt n├í┼í kost├Żm velmi dob┼Öe pou┼żiteln├Ż na jakoukoliv akci bez povinn├Żch ÔÇ×ochrann├Żch pom┼»cekÔÇť. S cenou se pohybujeme n─Ťkde mezi 1000 a 1500 korunami za materi├íl a n─Ťkolika ve─Źery pr├íce, co┼ż je za slu┼ín├Ż kost├Żm v─Źetn─Ť bot velmi, velmi p┼Ö├şzniv├í cena. Gratulujeme!
Odkazy na dal┼í├ş zdroje
Dal┼í├ş str├ínky, kter├ę by mohly pomoci:
http://curiavitkov.cz/
- Curia V├ştkov
http://kostym.cz/
- Mnoho st┼Öih┼» na historick├ę kost├Żmy
Obchody s vhodn├Żmi l├ítkami:
http://www.sartor.cz/
- Sartor bohemia ÔÇô lny, brok├íty
http://www.aped-latky.eu/
- Aped ÔÇô vlny, sem tam lny
Z├ív─Ťrem d─Ťkuji Iv─Źe, Sindorovi, Erloghovi, Naobe a Lence za korekturu a n├ívrhy na ├║pravy, Caldurovi za fotku bot a Melian s celou Curi├ş za inspiraci ke st┼Öih┼»m.